From Most Rev. Charles Grahmann
Sixth Bishop of the Diocese of Dallas, b. 1931 - d. 2018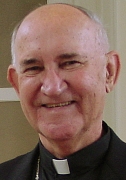 The defining issue of our day is nothing less than human life. Do we value it? Will we risk anything at all — or everything — to protect it? With more than 46 million deaths from legal abortion since the U.S. Supreme Court's January 22, 1973, Roe v. Wade decision, it should be clear that a socially respectable silence will not end this tragedy. Words and action, even sacrifice, are required.
So it is with humble gratitude to God that I speak to you about the Catholic Pro-Life Committee of North Texas, the Respect Life Ministry of the Diocese of Dallas, which I founded in 1993. At that time, I appointed a Pro-Life Steering Committee under the leadership of Diocesan Pro-Life Coordinator Fr. Edward Robinson, O.P.
Guided by a "Five-Point Plan" of Prayer, Education, Public Witness, Civic Action, and Supportive Services, the former Bishop's Pro-Life Committee has grown throughout the Dallas diocese and beyond; hence the new name, "The Catholic Pro-Life Committee of North Texas." Now, more than 30 full- and part-time employees and hundreds of volunteers are working to save lives directly, to support mothers, to offer healing to those wounded by abortion, to teach chastity to the young, and to promote the Culture of Life at the political level.
I wish every committee I worked with as bishop of Dallas was like this one, one that takes the ball and runs with it! The work of this Committee is nothing short of monumental. As I read the November 2001 reissued U.S. Bishops' Pastoral Plan for Pro-Life Activities, I had to say, "We've got this in Dallas; we're already doing it." The CPLC is a model from which other dioceses can and do learn.
Please take advantage of the dedication, skill and focus of this organization. Join your pro-life passion with theirs. Get involved today. Together, let us build the Culture of Life.
In His Service,
Bishop Emeritus Charles Grahmann
Diocese of Dallas